Forest School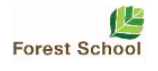 Snettisham Primary Forest School

Forest School is a rich learning environment that will further enhance the creative, enquiry based teaching that already happens in our classrooms. It is another approach to help make our school a fun, memorable, and enjoyable place, with happy and successful life-long learners.
If you click on the link opposite 'Forest Gallery' you will see all the photos that have been taken of the children having an amazing time out in the woods
with Miss Riddington.